Ferman Community Partnership
Since 1895, the Ferman organization, and its employees, have positively influenced the people and communities they serve by demonstrating excellence in corporate citizenship through the Ferman Community Partnership.
Today, the values instilled by our founders guide Ferman's charitable and philanthropic impact on the Tampa Bay area. We strive to continually make a difference in people's lives through contributions of volunteer time and financial resources and supporting our employees in their endeavors to make the Tampa Bay area a better place to live and work.
The types of organizations supported through the Ferman Community Partnership are as diverse as our community and include schools, educational and scholarship programs; health, medical, and human services organizations; arts, cultural, and history groups; civic, community events and fund drives; amateur youth sports and related activities.
---
THE MISSION OF THE FERMAN COMMUNITY PARTNERSHIP
Enrich and improve the lives of men, women, and children through philanthropy and active, personal involvement in the community.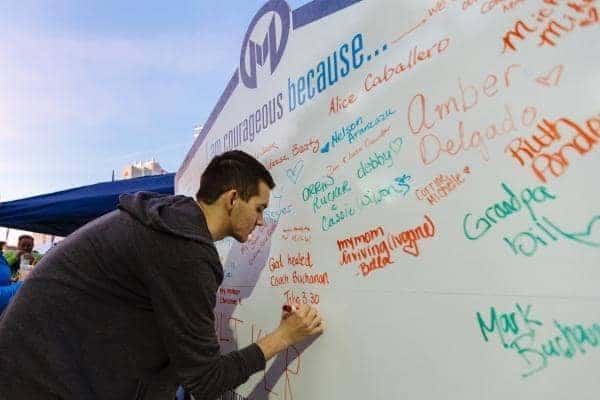 2020 MILES FOR MOFFITT VIRTUAL EVENT
True courage knows no obstacles. Ferman supports your courage and is proud to be a sponsor of the 2020 Miles for Moffitt Virtual Event. Visit Miles for Moffitt to learn more & support cancer research at Moffitt Cancer Center.
---

Ferman Chevrolet PROUDLY SPONSORS THE 2018 GASPARILLA DISTANCE CLASSIC
For the 13th year running, Ferman Chevrolet is the Official Automotive Sponsor of the 2018 Gasparilla Distance Classic.
This year, Ferman Chevrolet showcased several vehicles during the events, including a Chevy Camaro SS pace car (pictured below), the all-new Chevy Equinox and a Chevy Malibu at the Gasparilla Health and Fitness Expo. Visitors to the Ferman booth got to take their photos with these stunning vehicles, all while enjoying music and complimentary giveaway items.
The Gasparilla Distance Classic has become one of the premier races in the country, but more than just a competition for runners, the Gasparilla Distance Classic is also an impactful community event. The race is a charity fundraiser, helping distinguished organizations like Boys & Girls Clubs of Tampa Bay, Big Brothers Big Sisters of Tampa Bay, Metropolitan Ministries, and St. Jude Children's Research Hospital. Local high school and university athletic programs have also benefited from the Gasparilla Distance Classic's generosity, such as Plant High School and the University of Tampa.
---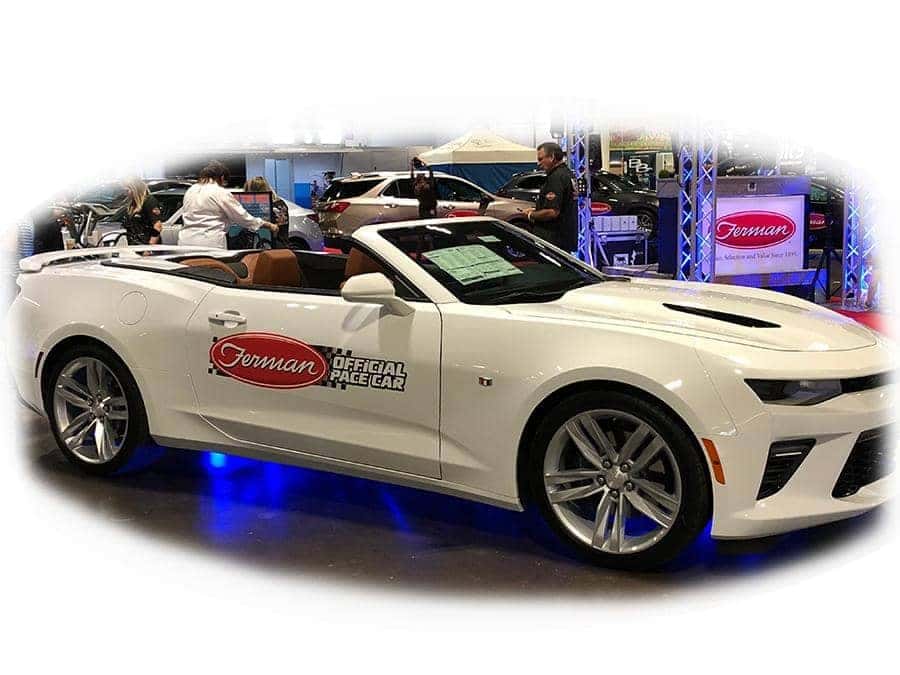 During the Jr. Gasparilla Distance Classic at Jefferson High School, parents and kids were able to get a great view of the all-new Chevy Traverse.
As the kids raced around the track, parents helped themselves to complimentary Ferman giveaway items and registered to win great prizes like a vehicle spa day certificate.
It was a great day of fun and fitness for the whole family!
---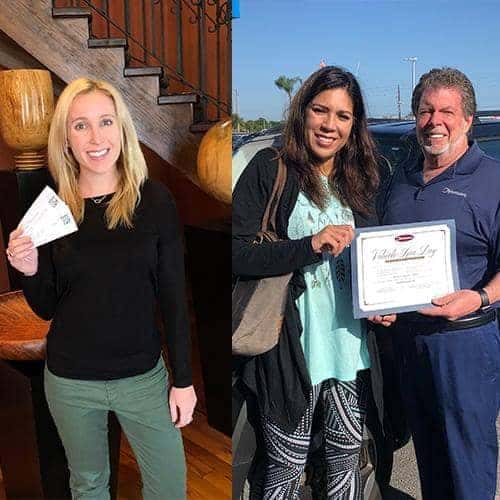 During the Gasparilla Health and Fitness Expo, visitors to the Ferman booth registered to win great prizes, including tickets to the 2018 Gasparilla Music Festival and a vehicle spa day.
This year's lucky winner of Gasparilla Music Festival tickets was Allyson from Tampa who got to attend this fun, local event with three of her friends.
Alexa from Lithia stopped by our dealership on Adamo Dr. where our Guest Experience Manager Tommy Farruggio presented her with a vehicle spa day certificate. Her car will be treated to a day of pampering courtesy of Ferman Chevy-Tampa.
Thank you to everyone who participated in this year's Gasparilla Distance Classic events. We hope to see you again next year!
---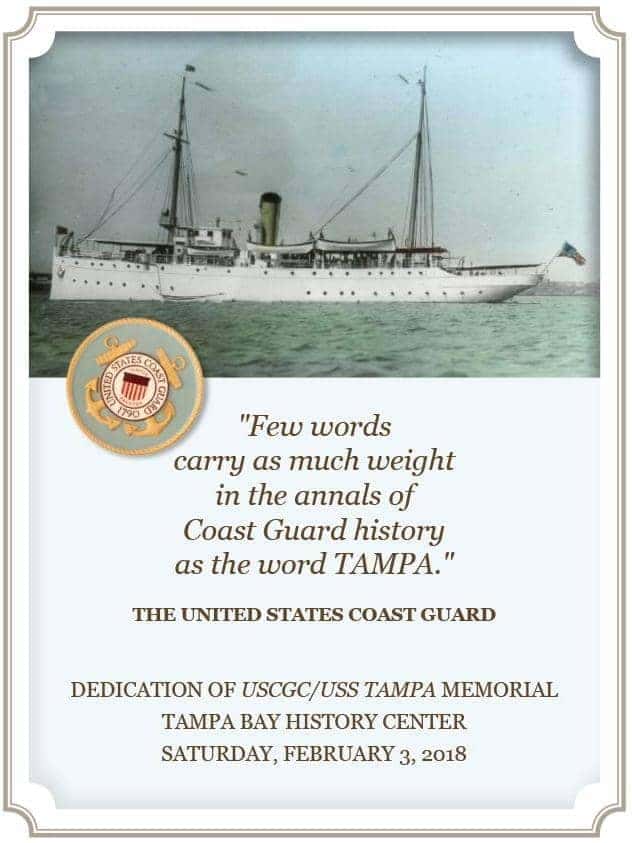 A FERMAN CONNECTION TO THE DEDICATION OF THE USCGC/USS TAMPA
The Tampa Bay History Center is set to dedicate a mural to the memory of the USCGC/USS Tampa, a Coast Guard ship with a storied past that represents the strength and bravery of our own community.
The Tampa was launched in 1912 and patrolled the waters of Tampa Bay from 1913 to 1917. The ship was even present at the Gasparilla festival, seen by Tampa residents as they celebrated the traditional pirate invasion.
In 1917, the United States entered WWI and the Tampa along with her crew helped escort ships from Gibraltar to Great Britain, earning the nickname "Shepherd of the Sea." While escorting a convoy in the evening, the Tampa was struck by a German torpedo. The ship sank within minutes and all of her crew were lost.
Aboard the Tampa that evening were locals, the Bivens Brothers (pictured on the far right of the mural). One of the brothers, Algie, worked for the Ferman company. We proudly salute Algie and all of the brave crew members of the Tampa.
The dedication of the mural will take place Saturday, February 3rd. The mural can be seen in the Tampa Bay History Center's 3rd-floor gallery. We encourage you to visit the exhibit and take in this wonderful piece of art created to honor the heroes of the Tampa.
---
FERMAN CHEVY-TAMPA DONATES THOUSANDS TO MOFFITT CANCER CENTER AS A PART OF OUR GET IN THE PINK CAMPAIGN
During National Breast Cancer Awareness Month, Ferman Chevrolet of Tampa pledged locally to support Moffitt Cancer Center in their Mission "to contribute to the prevention and cure of cancer".
We encouraged everyone to Get In the Pink and show their support by participating in a local awareness or fundraising event…or just lending a helping hand. We even turned our website pink to raise awareness!
After an entire month of encouraging everyone to Get In the Pink, Ferman Chevrolet of Tampa was proud to present Moffitt Cancer Center with a check for $5,000. "Corvette Tommy" Farruggio, Tracey Pendino and Nate Auvil stopped by Moffitt Cancer Center to personally deliver the check that will contribute to breast cancer research and prevention.
By working together as a community, we've made a positive impact right here in Tampa Bay. We hope that'll join us for future fundraising and awareness events.
Learn more about Moffitt Cancer Center here.
---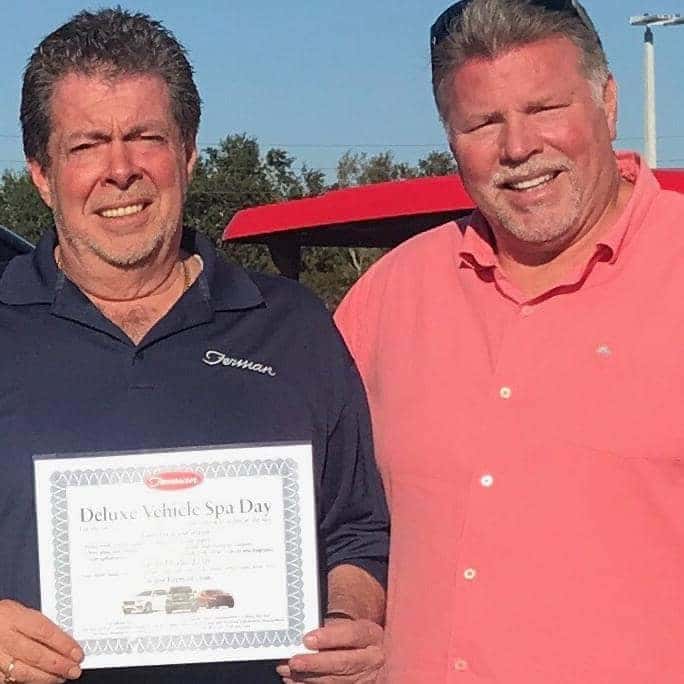 FERMAN PROUDLY SUPPORTS SHRINERS HOSPITALS FOR CHILDREN
Ferman proudly donated a Vehicle Spa Day to Shriners Hospitals for Children and their Game Day for LOVE event in August of 2016. Events like these help raise funds for young patients treated at the Shriners Hospitals, many of whom may not receive the care they need without these generous donations. We encourage you to join us in supporting the wonderful work they do in our community.
Richard Lucas brought his Vehicle Spa Day certificate to Ferman Chevy-Tampa, on Adamo Drive near Brandon. There his car was pampered with an exterior wash, interior vacuum, carpet shampooing and fragrant interior finish. Guest Experience Manager "Corvette Tommy" Farruggio and the Team at Ferman Chevy-Tampa made sure Richard and his vehicle were well taken care of.
---
FERMAN CHEVY-TAMPA HOSTS A 99.5 QYK TICKET RAID WHILE HELPING OUT METROPOLITAN MINISTRIES
On November 13th, Ferman Chevy-Tampa teamed up with 99.5 QYK to host a ticket raid for this year's Guitar Pull at the Straz Center. One lucky winner took home a pair of tickets to the event. Check out all the great pics QYK's Street Team snapped at our dealership near Brandon here.
In an effort to help feed those in need in the Tampa Bay area, Guests were encouraged to bring canned goods to donate to Metropolitan Ministries during the ticket raid.
For more information about this year's 99.5 QYK Guitar Pull at the Straz Center on November 15th, check out their official webpage.


FERMAN TEAMS UP WITH TAMPA PIG JIG TO HELP FIND A CURE FOR KIDNEY DISEASE
The Ferman Automotive Group is proud to be an Official Sponsor the 2017 Tampa Pig Jig. What started as a local, backyard fundraiser to help a friend suffering from FSGS and Nephrotic Syndrome, a rare kidney disease for which there is no cure, has now become a huge annual BBQ and music event right here in Tampa.
In the last 6 years, Pig Jig has raised over $2 million for NephCure Kidney International, a non-profit dedicated to finding a cure for FSGS and Nephrotic Syndrome, and the team at Ferman was happy to contribute to this noble pursuit.
You can find Ferman Chevy-Tampa at this year's Pig Jig event on Saturday, October 28th at Curtis Hixon Waterfront Park. To find out how you can help through donating, volunteering or attending, please visit the official Tampa Pig Jig website.
Jig on over to Tampa's beautiful riverfront and look for the Ferman Front Row. Enjoy finger-licking bar-b-q, fantastic music and dance the day away with your friends to support the cause. Hope to see you there!
---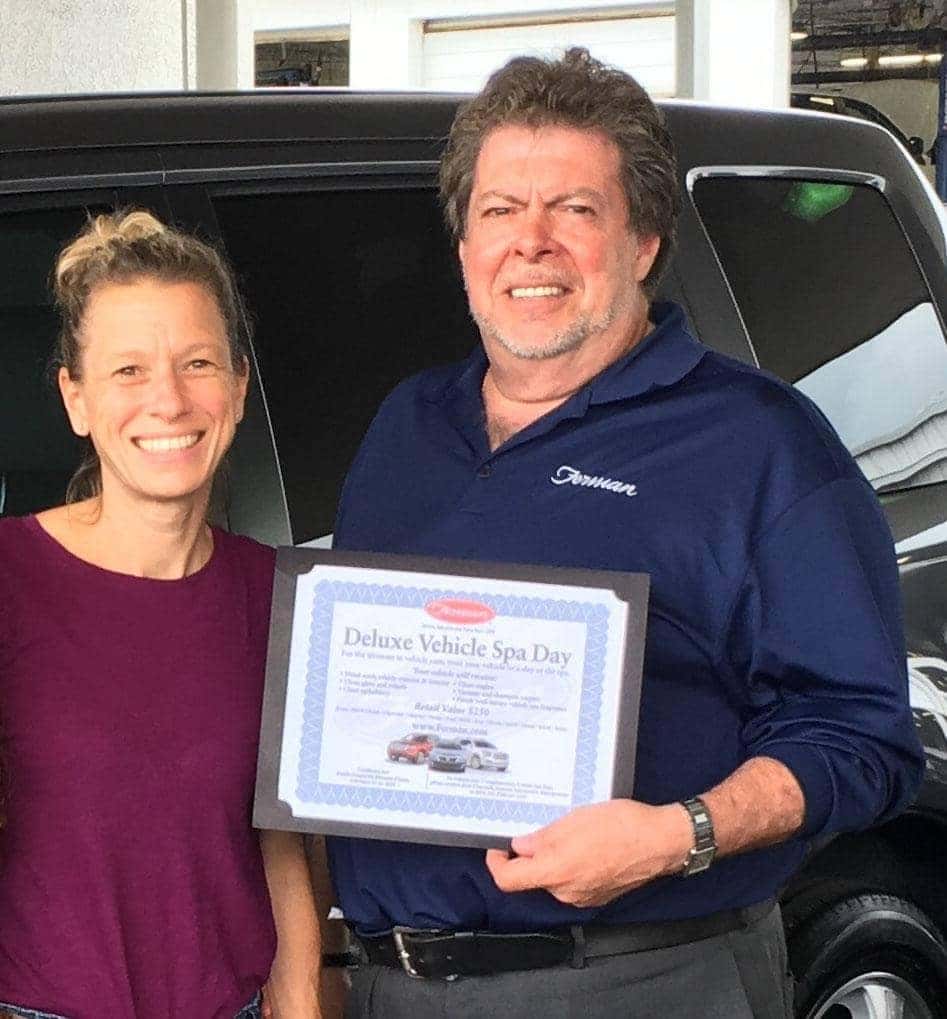 GASPARILLA DISTANCE CLASSIC VEHICLE SPA DAY GIVEAWAY
Ferman is a proud sponsor of the Gasparilla Distance Classic. During the 2016 Health and Fitness Expo, runners registered to win great prizes like a Deluxe Vehicle Spa Day certificate.
Ferman Chevy-Tampa's "Corvette Tommy" Farruggio presented this year's winner, Brandie Trlak, with her certificate in our state-of-the-art Service Drive.